John Spurlock is a student and writer of philosophy and poetry working and living in Oakland, CA. His poetic interests include juxtaposition, polyvocality, directness, and humor.
---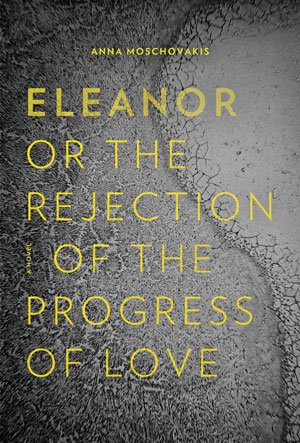 ELEANOR, OR THE REJECTION OF THE PROGRESS OF LOVE
by Anna Moschovakis
Coffee House Press, 208 pages
reviewed by John Spurlock
Anna Moschovakis' debut novel
Eleanor, or the Rejection of the Progress of Love
is a searching and poignant work that deftly positions itself between the unspeakable specificity of personal experience and the disturbing surplus of fungible narratives in our online world. The writing feels brave in both its formal approach and its openness to the potentially divergent conclusions it may suggest. Simultaneously a character study and a self-reflective piece about the labor of composition and revision, the novel effectively incorporates a
mise en abyme
structure without letting meta-textual trappings take away from the urgency and reality of its many compelling moments. "[T]here's a massive question mark at the heart of the novel," the author told
Bomb Magazine
in a recent interview. "And at the end it's still a question, but it's maybe, I don't know, set in a better font." By never, in fact, relinquishing the question mark, the novel places itself firmly within the chaos of this violent world, confronting its irresolvable quandaries attentively so as to more deeply probe their effects on our collective consciousness. So who ...
Read the full text