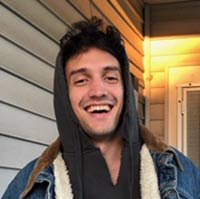 David Grandouiller writes essays, poetry, songs, and plays, and lives in Columbus, Ohio. He's interested in work that complicates or collapses genre boundaries.
---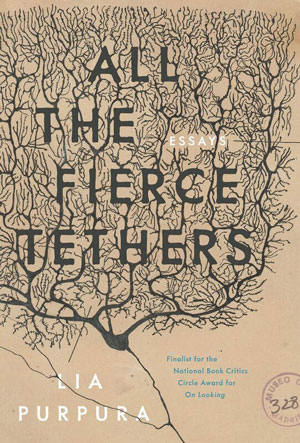 ALL THE FIERCE TETHERS
by Lia Purpura
Sarabande Books, 128 pages
reviewed by David Grandouiller
It's hard to find communion with a living thing in winter. Anyone with a burrow crawls in, wraps their tail around their eyes. The other night, when snow had just started falling, I braved the interstate on my way to another city, to share a friend's burrow. Some black ice spun me around, and I slid off the road, stopped in the median, my tread marks looping back through the new snow like a confused shadow. I'm fine, thanks. I didn't turn around, kept driving, couldn't bear missing a chance not to be alone. The car's fine, too, just brown all over from the dirt I scooped up. I haven't washed it yet. I like chauffeuring dirt around the city, an unanswered text message from the world of matter:
I'm still here
. Spring is coming, and with it a new book by the poet and essayist Lia Purpura,
All the Fierce Tethers
. These essays are the kind of encounters I'd drive in bad weather for. Some are a lot like the heat of another warm body in a small space, some like skidding through ...
Read the full text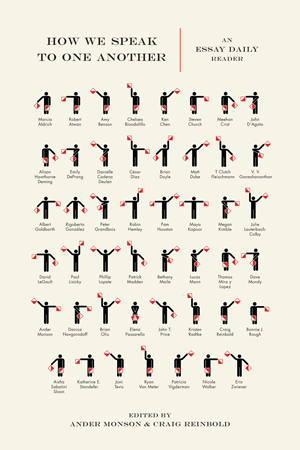 HOW WE SPEAK TO ONE ANOTHER: AN ESSAY DAILY READER
edited by Ander Monson & Craig Reinbold
Coffee House Press, 309 pages
reviewed by David Grandouiller
The oldest post on the
Essay Daily
blog is from Monday, January 18th, 2010, by Ander Monson, who taught at the University of Arizona and teaches there now. It's a list of essays included in the
Indiana Review
31.2: Claire Dunnington, "Green Eggs and Therapy" Joan Cusack Handler, "Beanstalk" Jen Percy, "The Usual Spots" Tom Fleischmann, "On Alticorns" The next day—Tuesday—there are six posts, all by Monson, and some of them are lists. One of them is titled, "A word about the space," which he defines as "a collaborative space to talk about some of the better (by which I mean more interesting) essays to appear in the literary journals that publish the majority of what we like to refer to as creative nonfiction, or literary nonfiction." "If you'd like to talk," writes Monson, "about an issue, a journal, or an essay (or a trend in essaying) that you're hot and bothered by, this would be a good space for that."
Essay Daily's
first anthology,
How We Speak to One Another
, is proof, seven years ...
Read the full text
BETWEEN LIFE AND DEATH
by Yoram Kaniuk
translated by Barbara Harshav Restless Books, 219 pages
reviewed by David Grandouiller
Yoram Kaniuk, an Israeli novelist who died in 2013, was the kind of man who tells jokes as he's dying in the hospital, even when he has no voice, when there's a respirator thrust through an incision in his chest. His humor is at times bitter, biting like Sholem Aleichem's pogrom narratives, descending into sullen anti-prayers: "cancer, like Hitler...is a messenger of the Lord." In this respect, Kaniuk's
Between Life and Death
, published this year in English, probably most closely resembles Christopher Hitchens'
Mortality
. A sense of the meaninglessness in so much of life, of banality in death, pervades both authors' stories. Kaniuk rages and rejoices, but sometimes qualifies these outbursts by settling, like Hitchens, for a tone of ambivalent irony, communicated in prose thick with vibrant images and cumulative sentences. In Kaniuk's world, sons and fathers are dying, mothers and daughters, and "rain pipes" and "secret bays" and "natural pools" are dying, the parking lot of the concert hall ("may-it-rest-in-peace") on Ibn Gabirol Street is dying, and the restaurant, First Cellar, on Ben Yehudah, died long ago: "A world where ...
Read the full text