Sara Alaica
 (
Ten Years in Belgrade
, Creative Nonfiction) is a citizen of the world and a nomad. She grew up in Canada and in the Balkans and has lived in Japan, Australia, New Zealand and the United States. Between traveling the seven continents, she earned her BA in literature from Carleton University and an MA in literature from the University of Toronto. She currently works at Columbia University in New York City. She blogs at
www.alittleroad.com
Nigar Alam
(
More Than a Pause
, Fiction) was born in Karachi, Pakistan, but grew up in Italy, Kenya, Turkey and several other countries. She hopes to bring all these experiences together in her writing. She is an educator and currently lives in Minnesota with her husband and two children. Her flash fiction can be found in the
Atticus Review
.
Roy Bentley
(
And
Blood on the Tracks
in the Tape Player
, Poetry) has received fellowships from ...
Read all bios for this issue
Kirsten Aguilar
 (
The Death of a Baby
, Creative Nonfiction) was born and raised in Sonoma, California. She graduated from Middlebury College in 2014 with a degree in international studies and now lives in Chicago. Most recently, her fiction has appeared in 
The Boiler Journal
.
Diane Arieff
 (
God: User Reviews,
Fiction)
was born and raised in Wisconsin. She earned her M.F.A. at Warren Wilson College. Her essays and fiction have appeared in
The Milwaukee Journal, The Jewish Journal,
The World is a Narrow Bridge,
and elsewhere. She lives and teaches in Los Angeles. Follow her on Twitter @DianeArieff Poems by
Cynthia Atkins
 (
My Persona
, Poetry) have appeared or are forthcoming in
Alaska Quarterly Review, American Letters & Commentary, BOMB, Caketrain, Clementine, Del Sol Review, Denver Quarterly, Harpur Palate, Hermeneutic Chaos, The Journal, North American Review, Tampa Review, Valparaiso Review,
and
Verse Daily,
among others. Her second collection,
In The Event of Full Disclosure
, was recently ...
Read all bios for this issue
Hannah Allen
(
Judging Distance
, Creative Nonfiction) was raised among the honeysuckle and hollers of Wolf Creek, Kentucky. She is a graduate student of English at Western Kentucky University. Her work has appeared in
Zest,
on crumpled sheets of paper at the bottom of her backpack, and in frantic emails to her creative writing group members. Hannah, her fiancé, and their cat live outside of Nashville, Tennessee. . Originally from Boise, Idaho,
Andy Bailey
(
Girl on the Moon,
Fiction) teaches English in Los Angeles, where he lives with his wife and dog. He's a Pushcart Prize nominee, and his work has been published in
Juked, Tupelo Quarterly, Buffalo Almanack, Stymie, B-Boyish,
and
Underground Voices,
among others. His attempt at a website can be found at
www.memyselfandrew.com
. .
Svetlana Beggs
(
Alina
, Fiction) is a native of St. Petersburg, Russia, and holds an M.A. in Philosophy. Her poems will appear in forthcoming issues of
Columbia ...
Read all bios for this issue
Elizabeth Alexander
(
Tony
, Flash). Originally from the Seattle area, Elizabeth Alexander is an undergraduate studying English and creative writing at the University of Pennsylvania. She serves on the writing staff and executive board for
Classless TV
and has been previously published in
The Penn Review.
She writes fiction, flash fiction, essays, and screenplays.
Bruce Alford
(
Study to be Quiet
, Poetry). Bruce Alford is a former journalist turned creative writer. His work is informed by a Southern Missionary Baptist tradition and often explores the tensions between religion, place, and literary history. Alford currently lives in Hammond, Louisiana, and teaches American literature and English composition at Southeastern Louisiana University. His first book of poems,
Terminal Switching
(Elk River Review Press) was published in 2007. Alford is a reviewer for
First Draft
, a publication of the Alabama Writers' Forum, and
The Black Scholar,
and has published fiction, creative nonfiction, and poetry in numerous journals ...
Read all bios for this issue
William L. Alton
(
A Rain of Sound
, Flash) was born November 5, 1969 and started writing in the 80s while incarcerated in a psychiatric prison. Since then his work has appeared in
Main Channel Voices, World Audience and Breadcrumb Scabs,
among others. In 2010, he was nominated for a Pushcart Prize. He has published one book,
Heroes of Silence
. He earned both his BA and MFA in Creative Writing from Pacific University in Forest Grove, Oregon. You can find him at
williamlalton.com
.
J.J. Anselmi
(
Atrophy
, Nonfiction) holds an MFA in Creative Nonfiction from CSU Fresno, where he also worked as the Assistant Nonfiction Editor of The Normal School. J.J.'s first book,
Heavy: a memoir of Wyoming, BMX, Drugs, and Heavy Fucking Music
, is forthcoming from Rare Bird in Fall 2015. His other work has appeared or is upcoming in
Trop, Under the Gum Tree, Weber: The Contemporary West, Word Riot, The ...
Read all bios for this issue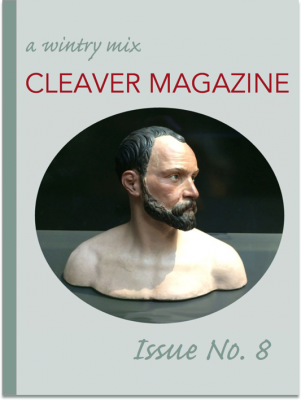 The work of
Nancy Agati 
(
Noticing Water
, 
Art
) addresses transformations in nature, and often speaks of time elements through physical investigations of materials. She has exhibited her work throughout Philadelphia and nationally, with solo exhibitions at Pentimenti Gallery, Philadelphia; Hillyer Art Space, Washington DC; Whitaker Center for Science and the Arts, Harrisburg; The Crane Arts Building, Philadelphia; Abington Art Center, Jenkintown, PA; and ARC Gallery and Educational Foundation, Chicago, among others.
Glen Armstrong
 (
The Lemon Poem
, 
Art
) holds an MFA in English from the University of Massachusetts, Amherst and teaches writing at Oakland University in Rochester, Michigan. He also edits a poetry journal called 
Cruel Garters
. ♦
Jan-Erik Asplund
 (
Emily
, 
Fiction
) lives in Brooklyn. His work has appeared or is forthcoming in 
The Potomac
, 
The Bad Version 
and 
The Silo
. ..
Walter Bargen
 (
Bye Bye Olduvai
,
Poetry
) has published eighteen books of poetry. His most recent books are: 
Days Like This Are Necessary: New & Selected Poems 
(2009), 
Endearing Ruins/Liebenswerte Ruinen
 (2012), 
Trouble Behind Glass Doors
 (2013), 
Quixotic
 (2014), and 
Gone West
 (2014). He ...
Read all bios for this issue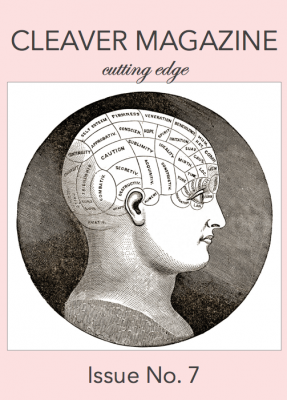 Max Bartlett
 (
Birds / Nerves
) is a journalist, part-time writer, and public radio producer. He has a degree in Journalism from the University of Idaho, and enjoys books about robot wizards fighting space dragons. His literary inspirations include Margaret Atwood, Anthony Doerr, and Daniel Orozco. When he is not creating classic works of art that will probably be taught in schools in fifty years, he lives indoors and mostly sleeps.
Charlotte Boulay
 (
Scientists Have Discovered
) has published in
 Slate
, 
The Boston Review
, and 
The New Yorker
, among other journals. Her first book, 
Foxes on the Trampoline
, was recently published by Ecco Press. She works at The Franklin Institute, and lives in Philadelphia.
Amy Burns
 (
Hunger
) holds a PhD in Creative Writing from The University of Glasgow. She currently serves as the Managing Editor for 
Mulberry Fork Review
. She is nearing completion of her second novel and is represented by Lucy Luck Associates. For more about Amy please visit: 
http://amyelizabethburns.com/
Susan ...
Read all bios for this issue
Anastasiya Shekhtman (THE OLD MAN AND THE POOL) 
is a senior Communication Design major at the University of Pennsylvania, minoring in Russian and Creative Writing. Displaced from Ukraine at the age of four, Anastasiya is currently chasing childhood images, sorting the real from the imagined, only to blur them again in her work. Until recently, Anastasiya lived in a love triangle between writing and design. Then she found her heart in the overlap. Visit her at  
www.anastasiyashekhtman.com
.
Laura Mecklenburger ("VULNERARY" AND AN ART WITCH) 
is a recent MFA graduate in Ceramics at Penn State University, living in Philadelphia. Her ritual-based installations and objects consist of mixed media and works on paper as well as clay, and sometimes involve performance. Mecklenburger has taught introductory Ceramics at Penn State and with the Claymobile outreach program at the Clay Studio, and she has presented on the topic of ritual in art at the National ...
Read all bios for this issue
Dmitry Borshch
 (
"
EXILED FROM TRUTH: NINE ALLEGORIES") 
was born in Dnepropetrovsk, studied in Moscow, and now lives in New York. His paintings have been exhibited at the National Arts Club (New York), Brecht Forum (New York), ISE Cultural Foundation (New York), and the State Russian Museum (Saint Petersburg).
Donna Festa
 (
"
PORTRAITS OF AGE") 
has paintings and drawings in both public and private collections, including the State Museum of Pennsylvania. She has exhibited in New York, San Francisco, Chicago, Philadelphia, and Miami. Her work has been published in Fresh Paint Magazine, October, 2013, INPA, vol. 1 , 2011, INPA, vol. 2, 2012, and New American Paintings, Mid-Atlantic Region vol. 51, 2004. Donna is a graduate of the Pennsylvania Academy of the Fine Arts in Philadelphia, Pennsylvania, where she earned a four year certificate in painting; the University of the Arts, also in Philadelphia, where she received a BFA in painting and teacher certification; and the University of Hartford in ...
Read all bios for this issue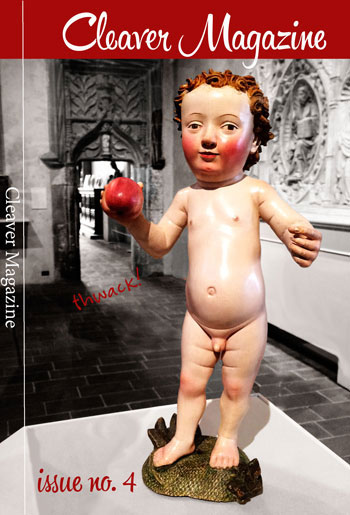 Bonnie Altucher (
"Bobby Fear"
) grew up in New York City and has also lived in Paris and North Oakland. She received an MFA in fiction from Brooklyn College. Her poetry was published in Roof Magazine, and she has been awarded residency fellowships in fiction from Macdowell, Ucross, Ragdale and VCCA. In 1998 she founded and edited Documentmag, an online journal about documentary filmmaking. She lives in Manhattan with her husband and daughter, and is finishing a novel about a psychotherapy cult in New York in the 60's and 80's. S.I. Adams (
"Pesante Con Moto/Allegro Barbaro"
) was born in Honolulu, Hawaii and raised in southern Ohio. A Cornell College graduate, Adams now writes poetry and tends bar in Cleveland. This is Adams's first publication.
William Beem
 (
cover photo
) is a portrait and travel photographer based in Central Florida. He writes regularly about photography on his blog at 
williambeem.com
. Lily Brent (
"The Biological Need to Adapt"
) is a ...
Read all bios for this issue
Sarah Andrew
("
The Law of Constant Angles
", illustrator) is a recent graduate of the MFA program at the University of North Carolina Wilmington, where she worked as a teaching assistant in
The Publishing Laboratory
. Her portfolio-in-progress can be viewed
here
.
R. C. Barajas
("
You Were Going to Tell Me
") was born in Stanford, California. She attended college, skipping from UC Berkeley to College of Marin to San Francisco State like a rock across a pond. She eventually garnered a degree in art. For ten years, she worked as a goldsmith. While living in Colombia in the early 90s, she began writing non-fiction and short stories. She has published in magazines and newspapers on a variety of topics. R.C. currently lives in Arlington, Virginia, with her husband, three sons, and a pack of dogs.
Brian Baumgart 
("
This Film of My Life If I'd Paid More Attention to French Cinema
") directs the creative writing ...
Read all bios for this issue
Ann de Forest 
("
Closing the Curtains
") Ann's short stories have been published in 
The Journal, Hotel Amerika, Timber Creek Review,
 and 
PIF
 as well as performed onstage at InterAct Theatre's "
Writing Aloud
" series. As a journalist and design critic, she has contributed to the 
New York Times, the Philadelphia Inquirer
, as well as the late lamented 
ID, Navigator
, and 
Attaché
 magazines. She is currently writing a time travel trilogy for middle grade readers, teaching creative writing to kids ages 8-13 and adults over 70, and exploring her fascination with waning technologies 
in her blog
.
Jim Eigo
 ("
Underground
") is a writer living in New York City. His fiction has appeared in 
Likely Stories
 and 
Best American Gay Fiction #3
, and periodicals such as 
The Chicago Review
and 
Cream City Review
. You can read his recent flash fiction in T
he Legendary #26, riverbabble 19, Word Gumbo 2,Polluto 8, SPLIT Quarterly 5 and Wordland 1
. His first published art work appears in a limited edition book from Intima Press, 
The Poetics of ...
Read all bios for this issue