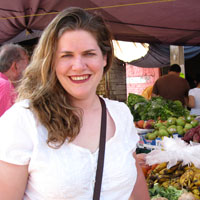 Beth Johnston trained as a lawyer before earning an MFA from Bennington College. She has written about books and law for The New Republic, Legal Times, and other publications. She lives in Washington, DC, where she teaches writing at George Washington University.
---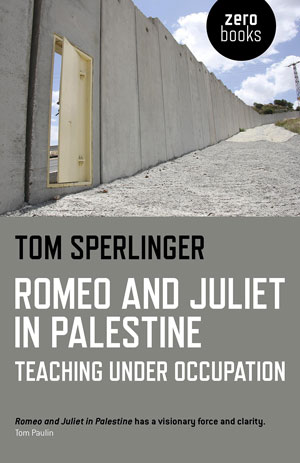 ROMEO AND JULIET IN PALESTINE: TEACHING UNDER OCCUPATION
by Tom Sperlinger
Zero Books, 144 pages
reviewed by Beth Johnston
Trust the Brits to find the humor in anything. Tom Sperlinger's
Romeo and Juliet in Palestine,
a brief memoir of a semester the author spent as a visiting professor of English literature at Al Quds University in Abu Dis in the West Bank, deploys wry wit to combat the absurdities of living and teaching in a place of controlled chaos. Take this retelling of an exchange between Sperlinger and a security guard at an Israeli checkpoint: "Are you Jewish?" "My father's Jewish." "And your mother?" . . . "She's Christian," I replied. "Where is she from?" "Belfast." "Why did your father marry her?" I didn't think this was a question I could answer. At Al Quds University, Sperlinger's students remain dubious about the benefits of the courses he offers; they want to learn the English language, but feel profoundly disconnected from English literature. On one of his first days at the office, Sperlinger encounters a student who actually likes studying English literature, but doesn't like the department. "If you were head of the department, what would you change about ...
Read the full text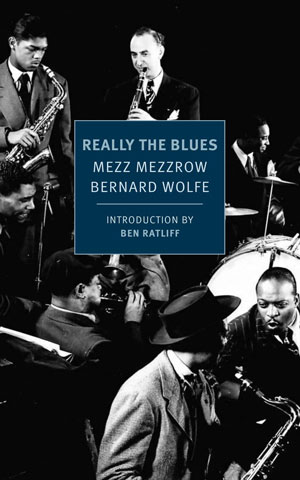 REALLY THE BLUES by Mezz Mezzrow and Bernard Wolfe NYRB, 464 pages
reviewed by Beth Johnston
You're in another anonymous suburb at an undistinguished hotel on a Tuesday evening, traveling for work. After a day of meetings, you're finally free to visit the hotel bar for a burger and a beer before you do it all over again tomorrow. At the counter, you take a seat two stools away from a middle-aged man in fine trousers, a white shirt, and a wide, loud tie, drinking something brown on the rocks. The man's exchanges are first cordial, but then stretch into tall tales that make you fidget in your seat, and finally become oddly compelling, even touching. Just as the bartender calls for your last order, the story winds to a shimmering conclusion, leaving you with an unexpected sense of hope, of the power of persistence, of the redemption of art. That's the feel of reading Mezz Mezzrow's classic 1946 memoir, recently republished by NYRB Classics, about his life as a jazz saxophonist. "Music school?" the book begins. "Are you kidding? I learned to play the sax in Pontiac Reformatory"—the prison for younger offenders where Milton "Mezz" Mesirow, born in 1899, ...
Read the full text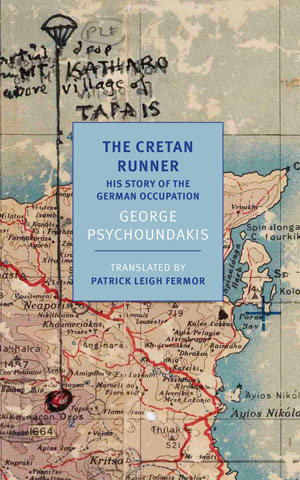 THE CRETAN RUNNER: HIS STORY OF THE GERMAN OCCUPATION by George Psychoundakis translated by Patrick Leigh Fermor 352 pages
THE COWSHED: MEMORIES OF THE CHINESE CULTURAL REVOLUTION by Ji Xianlin translated by Chenxin Jiang New York Review of Books 216 pages
reviewed by Beth Johnston
Over the years, I've consumed dozens of memoirs of hardship. I've accumulated shelves full of first-person accounts of war, revolution, genocide, and slavery, and developed a sideline collection of journeys that end in failure or death.  These accounts of people swept up in forces far larger than they are comfort me because their problems dwarf everyday concerns like workday traffic or messy kitchen sinks. Their perspective reminds me that much of human history has been dark and difficult, and that in the face of those difficulties, our only choice is whether to act bravely or poorly. These stories also do what good fiction—and good history—do: they let us glimpse the lives of those whose experiences we cannot imagine. So I was excited to learn that New York Review Books had just published two more of this kind of memoir, one by a Greek resistance fighter during World War II and one by a scholar ...
Read the full text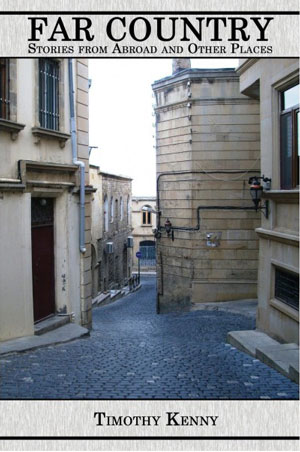 FAR COUNTRY: STORIES FROM ABROAD AND OTHER PLACES, essays by Timothy Kenny Bottom Dog Press, 144 pages
reviewed by Beth Johnston
In the preface to Timothy Kenny's new essay collection,
Far Country: Stories from Abroad and Other Places,
Kenny links his stories to the new journalism of the 1960s, the work of "Tom Wolfe, Gay Talese, and Joan Didion." Yet although Kenny positions himself as Didion, personal and revealing, he more often echoes
New Yorker
journalist John McPhee. His essays hold back, shield the author's character, and confess little. The best of them capitalize on Kenny's strengths: carefully observed detail, compelling stories, and flair for sentence. But only a few of them require Kenny to risk baring himself and his responses to distant places. Kenny is a former
USA Today
journalist and a journalism professor who has worked abroad since 1989. He's seen a lot: Belfast during the Troubles, Berlin right before the wall fell, Sarajevo during the siege, and Kabul as Afghanistan is rebuilt. He's interviewed Vaclav Havel in Prague and fought off feral dogs in Kosovo. His character feels like the movie version of a Western journalist abroadhe's Mel Gibson in
The Year of Living Dangerously
or Stephen ...
Read the full text