Andrea Jarrell
's essays have appeared in The New York Times; Narrative Magazine; Brevity blog; Full Grown People; Brain, Child; Memoir Journal; Cleaver Magazine; The Manifest-Station; The Washington Post and several anthologies. Her memoir I'm the One Who Got Away was published by She Writes Press in 2017.
---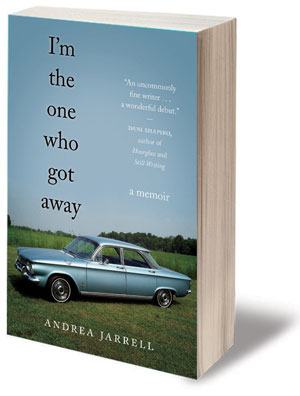 I'M THE ONE WHO GOT AWAY
by Andrea Jarrell
She Writes Press, 153 pages
reviewed by Helen Armstrong
Do you catch yourself peering into other people's windows at night? Perhaps you were driving by in the dark and wanted to catch a glimpse of how other people live. Do they sit down to eat together? What are they watching on the TV? The drive-by look is a quick wondering that's satiated by seeing that they, too, are watching the football game, which you're going home to watch. You must be normal, because they're normal, because you don't know about their dysfunctions. Reading Andrea Jarrell's memoir felt like I was squatting in the bushes outside of her house, fingers perched on the windowsill, watching and listening as her life unfolded, taking comfort in her family's dysfunctions which mirrored my own in asymmetric ways. Being from a dysfunctional family myself, I take some sick comfort from seeing crying children in grocery stores, their mothers looking like they've reached their wits' end. I thrive on overhearing family fights in restaurants, because for so long, it was my family who were making heads turn. Once, at a rest stop in Delaware, my younger brother ...
Read the full text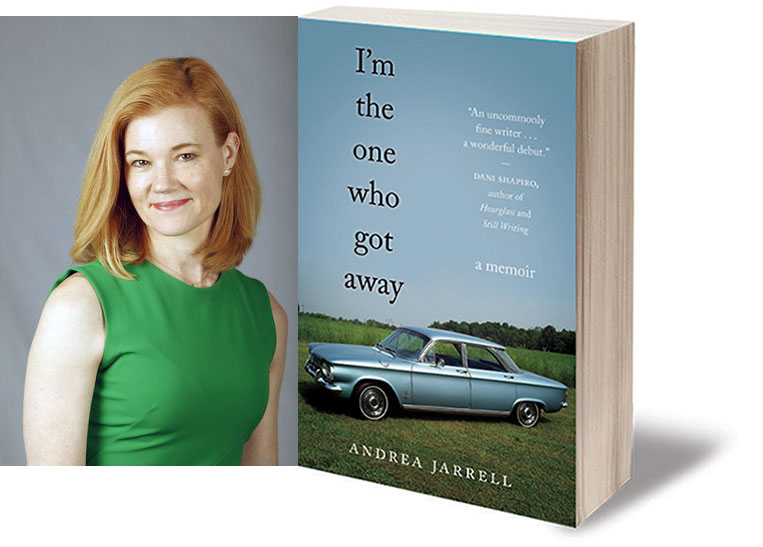 A Conversation with Andrea Jarrell
Author of I'M THE ONE WHO GOT AWAY
from She Writes Press, 176 Pages
Interview by Elizabeth Mosier
Haunted by her father's absence and riveted by her single mother's cautionary tales, Cleaver contributor Andrea Jarrell longed for the "stuff of ordinary families," even as she was drawn to the drama of her parents' larger-than-life relationship. In her new memoir, 
I'M THE ONE WHO GOT AWAY
 (She Writes Press), Jarrell revisits family stories starring wolves in cowboy clothing and lambs led astray by charming savior-saboteurs, to recount how she escaped a narrative she'd learned by heart.
Jarrell's work has appeared or is forthcoming in publications including
The New York Times, The Washington Post, Narrative Magazine,
and
Lit Hub
, among others. A Los Angeles native, she currently lives in suburban Washington, D.C., and works as a communications strategist for educational institutions. Read Andrea Jarrell's craft essay "Becoming an Outlaw: How My Short Fiction Became a Memoir," published last year on Cleaver.
Cleaver interviewer Elizabeth Mosier asked her about the long road to writing her own story. 
EM: You're the one who got away. What does "getting away" mean for you?
AJ: The book's title speaks to the getaway at ...
Read the full text
BECOMING AN OUTLAW
Or: How My Short Fiction Became a Memoir
by Andrea Jarrell
I began as a fiction writer, naturally drawing from my childhood as my mother had told it to me, working hard to bring her stories to life through scene, dialogue, and sensory detail, pacing them as mysteries. The memoir that many of these fictionalized stories eventually became is better, I think, because I didn't start out writing memoir, trying to "remember." ◊ Like a bedtime story, my mother often told me of our escape, fugitives from my father, a man as alluring as he was violent. She was nineteen, a girl-woman, scared of what this man who slept beside her with a gun under his pillow might do if my crying got too much or yet another man admired her beauty. She used to say that the day she first felt me move inside her, she began plotting to leave him. Our getaway car was a teal blue Corvair. I was just a year old, literally and figuratively strapped in beside her. The car that delivered us to our freedom was famously recalled by its manufacturer for its tendency to lose control. Shed of ...
Read the full text
LOST
by Andrea Jarrell
It's like this: a few weeks ago, my husband got me one of those step counters and now I'm obsessed. On the night in question, he happened to be out of town. I had yet to reach my 10,000-step goal, so I leashed up my two mutts and told my sixteen-year-old son I'd be back in half an hour. The night was cold. The dogs were excited by the scent of deer scat in the air. My suburban Maryland neighborhood with its tall, leafy oaks and maples is not well lit. Not a soul was in sight. Just me doing what I chastise other women for—out exercising in the dark, determined to break a sweat despite the possibility of lurking malfeasors. I had my dogs to protect me. Still, I got that hair-on-the-back-of-your-neck feeling as I passed the funeral parlor at the end of our block and walked to the grounds of a former mental institution. What was once the posh sanatorium Chestnut Lodge is no more, razed a few years ago. In its place a fancy subdivision has sprung up. I walk its brick-lined paths and lush grounds on an almost daily basis. But ...
Read the full text
ON THE MIRACLE MILE 
by Andrea Jarrell
It was lunchtime on the Miracle Mile—a stretch of Wilshire Boulevard in Los Angeles that's not quite downtown and not quite the West Side. My mother, who always hated the hot, walked beside me in her crisp linen dress. Beneath the linen, her stockings and slip made a
fft fft
shifting sound, keeping time to the click
of her slingback pumps. Heat waves bent the air. The streets were empty—streets that had civilized what was once ice, then tar pits, then desert. All had made way for the city of angels. Beside my mother, I was office appropriate in a banana yellow cotton skirt and top combo. I was eleven and it was 1973, when all the clothes were Laffy Taffy colors. From elementary school through high school, I spent my summers working with my mother, who was a secretary in a lawyer's office. Lunchtime was the highlight of my day. On that particular day, at my request, we were headed past the office towers and the gas station on the corner to the lunch truck for
gorditas
. I anticipated the greasy scent of the truck and the weight of the silver-wrapped sandwich ...
Read the full text