Allison Renner has worked as a photographer, student teacher, and graphic designer. She is currently a librarian who shares her love of young adult literature with teens in public libraries.
---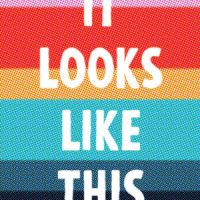 IT LOOKS LIKE THIS
by Rafi Mittlefehldt
Candlewick Press, 327 pages
reviewed by Allison Renner
Purchase this book to benefit Cleaver
The teenage years are a time for young people to discover their identities and explore and push the boundaries of structured life. The lucky ones are given room to experiment as they explore.
It Looks Like This
is a book about what happens when someone is not given that freedom. When Mike and his family move, just before his freshman year, Mike starts high school in a new state and begins to forge some tentative friendships. But Victor, also low on the totem pole in terms of the high school hierarchy, seems to have a personal beef with him. Mike tries to lay low and mind his own business but Victor's attention is unsettling. Mike finds himself drawn to another new student, Sean, an attractive mixed-race guy who joins Mike's French class. Assigned to a major project, they start spending a lot of time together and Mike starts to feel the electricity between them, though he's not sure if those feelings are reciprocated. While their relationship grows, keeping things quiet at school, Victor is always around, it ...
Read the full text